Engineer    –    Design    –    Sale    –    Install    –    Service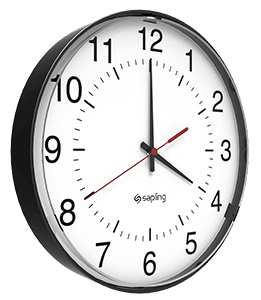 Analog Clocks
Sapling's SAW Series Wi-Fi Clocks connect to a wireless local network and are capable of taking the accurate time from any NTP server. The Sapling Wi-Fi clocks come pre-programmed with the web addresses of public internet NTP servers. Each clock can be set and controlled through a user-friendly built-in web interface from any computer or mobile device (such as a tablet or smart phone).
Since Wi-Fi is the means of communication, Sapling Wi-Fi Clocks are ideal for facilities in need of many or just a few clocks spread far apart. It is also a great solution for multi-building campus environments utilizing existing Wi-Fi infrastructure. The system also includes the Wi-Fi Monitoring Software to monitor the clocks.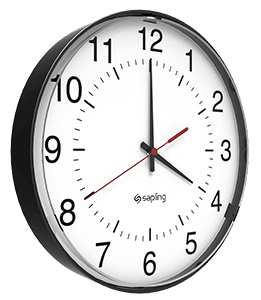 WI-FI ANALOG CLOCK FEATURES
Built-in web interface in each clock for ease of setup and monitoring
Each clock comes programmed with 5 third party NTP servers
Local power options – 24V, 110V, and 230V
5-8 year battery life
Operates on existing Wi-Fi Infrastructure
Smooth surface black ABS case and polycarbonate crystal
Brushed Aluminum and Cherry Wood case finished available
FCC Compliant
UL Listed
STANDARD WI-FI DIGITAL CLOCK FEATURES
Easy-to-use internal web interface built into each clock for user customization of its settings such as Daylight Savings Time and dimming schedules for digital clocks
Available is 2.5" or 4" displays and 4 or 6 digit displays
Automatic bi-annual Daylight Savings Time
12 or 24 hour display
Configurable alternating time/date
Digital Clocks
Sapling's SBW 3000 Series is the embodiment of reliability and innovation. The Wi-Fi clocks can receive time directly from third party (S)NTP servers over internet for accurate timekeeping and eliminates the need for a master clock. Along with that, each clock has its own built-in web interface which allows you to monitor and program the clock from any device on the same network.
The SBW 3000 series also includes Elapsed Timer capabilities, which can be beneficial to a variety of industries. With Sapling's Elapsed Timer, you can program the timer to conduct a count up or countdown, and so much more. See below for additional features of the SBW 3000 Series.
Master Clocks
Sapling's new SMA 2000 series master clock enables a user to have complete flexibility over their system. The SMA 2000 comes standard with (S)NTP capability for synchronization to pre-programmed (S)NTP web servers. The clock has two pre-programmed relays that are dedicated for synchronous wired clock systems. The master clock can be purchased with a built-in transmitter for sending out the signal wirelessly to Sapling wireless analog and digital clocks. A GPS can be added as a supplement to the already feature-rich clock for even more accurate timekeeping.The SMA 2000 also encompasses a fully functional web interface for controlling the master clock from any computer on a network or via a crossover cable. As an optional feature, the master clock also has the ability to have its own (S)NTP server that other devices can point to in order to receive time via (S)NTP.

SMA 2000 FEATURES
Extremely versatile – Master, slave and independent clock with chronograph capabilities
Interface capabilities to most master clock/intercom systems 12 or 24 hour display
"FirE" and addressable messaging capabilities
Various input selection – 58 minute, 59 minute, National Time/Rauland sync wire inputs, Midnight Reset input, RS485 input and output and 2-wire digital communication
UL, cUL and FCC approved

TIME ZONE CLOCK FEATURES
Each Time Zone Clock System can accommodate up to 7 clocks
Clock options include 2.5" or 4" digital clocks, 12″ round or square analog clocks and 16″ round analog clocks
Works with Sapling's IP, Wireless, or Wired System
International Daylight Saving Time capabilities (where observed)
Customizable time zone name plates to signify the area's time the clock is displaying
Can assist in a variety of industries, including healthcare, transportation, hospitality, corporate, government, and many more.
Encompasses a seamless design and simple installation
Time Zone Clocks
A Time Zone Clock is a series of clocks that will display the time in your current location as well as other time zones around the world. Installing Sapling's Time Zone Clock offers a variety of benefits to many different types of facilities, including hospitals, airports, hotels, corporate offices, government buildings and many more. Sapling's Time Zone Clock offers all of the unique features our clock systems encompass along with the knowledge of the correct time in your current location and in different time zones around the world.